Seussical, Jr. Summer 2019 Musical/Photo Gallery
https://drive.google.com/drive/folders/19NFHeECKSEj5ty_fR10z8Gabag8oROnL?usp=sharing
2018-19 Vocal Music Festivals
CUSD High School Vocal Music Festival (2018), Friends Festival (2018)
DHHS Marching Band 2018-19
SOCSA Picnic (Fall, 2018)
Sea Canyon Park
SOCSA's Showcase: The Greatest Showcase (Spring, 2018)
SOCSA's Spring Play,
The Triangle Factory Fire Project (Spring, 2018)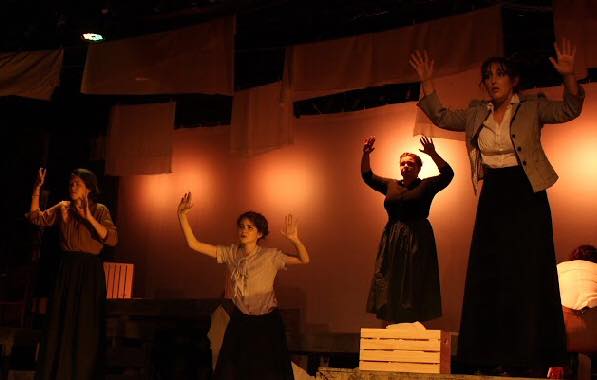 SOCSA Spring Musical, Cats (Spring, 2018)
Student-Directed Musical, Musicalc (Winter, 2018)
This special project was an original work written by Anders Hosek (Class of 2018) and composed by Stone Burgan (Class of 2018). Anders and Stone teamed up to write a show that idealized a fictional school's competitive Calculus team. It was a hit! Anders Directed, and Stone Musical Directed.
SOCSA Goes to New York City! (Spring, 2018)
SOCSA Students went to New York City for Spring Break (Spring 2018)
They saw 4 productions, took a Hamilton workshop with a cast member, and saw the sights over a 4 night, 5 day trip!
Community Experience: Once at South Coast Repertory
Thank you to the Theatre Access program at South Coast Rep, SOCSA students were able to score some free tickets to see Once! The pre-show included a concert on stage and our students got up close with the cast members.
SOCSA Dance Production Performances
Congratulations to our SOCSA Dance Production ladies on a great first two weeks of school!
They have had two performances in two weeks – first at the Welcome Back Pep Rally and Friday, Sept 1st at the Home Football Game!
You ladies are amazing to watch wherever you perform!
Community Performance: Festival of Children at South Coast Plaza
SOCSA Vocal Music and Musical Theater students performed as part of the Festival of Children on Saturday Sept. 2 at South Coast Plaza. This is an annual benefit that the Festival of Children Foundation presents to encourage charities, companies, organizations and individuals to come together in support of children, and we are so proud to perform at this wonderful month of celebrating our communities support to champion for children!